Affordable homes in Redhill recognised for excellence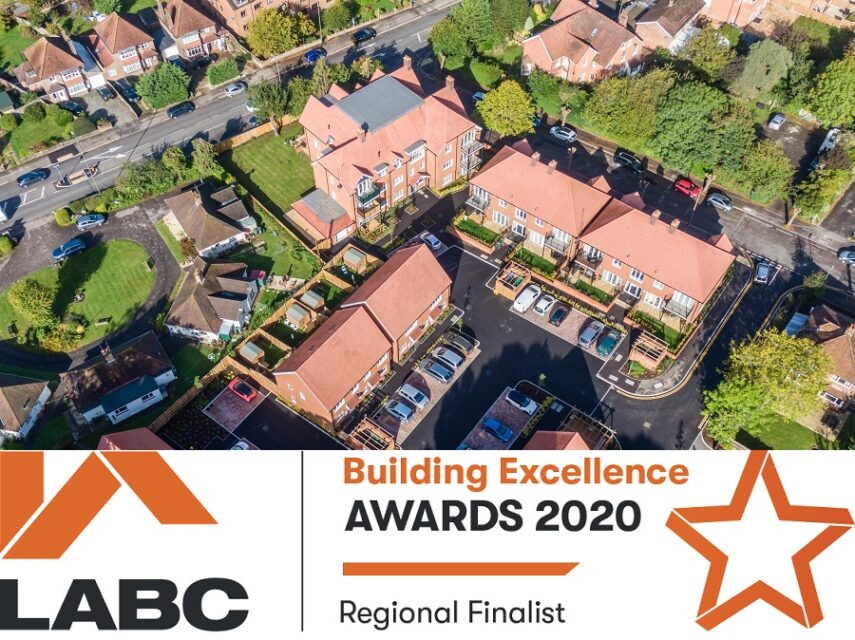 Raven's development of 34 affordable homes in Ranmore Close in Redhill, which was completed in June 2019, has been shortlisted in both the Best High-Volume Housing Development and Best Social or Affordable New Housing Development categories. The winners of the South East LABC Building Excellence Awards will be announced on Tuesday 8th September.
The new homes have provided somewhere affordable to live for local people over 55, most of whom were looking to downsize, which in turn has freed up larger houses owned by the housing provider which are better suited to families needing extra space.
The homes were specifically designed with the needs of older residents in mind. All properties are equipped with both a bath and a separate shower cubicle, built-in wardrobes and mobility scooter charging points to support ongoing independent living. The development has also included a communal pergola offering a focal point to gather around and meet with neighbours.
To encourage residents to recycle, reduce their carbon footprint and help keep the running costs of their home affordable, all kitchens are fitted with 30l recycling bins, low energy light bulbs throughout the property and rotary drying lines were installed to reduce the use of tumble dryers. Water butts have also been provided.
Alison Bennett, our development director said, "This innovative and ambitious development is a great example of providing truly affordable homes that provide our residents with a real sense of belonging and community.

"Having a good quality, affordable home makes a huge difference to people's lives and creating social value is an important part of our work. The development's role in freeing up some larger homes we own to house families as well providing a better lifestyle for the needs of some of our older residents is vital locally as we tackle the housing crisis.

"However, it isn't just about building new homes, they have to be great quality and create a real sense of place and community, where people want to and can afford to live. Receiving external recognition for this development is a fantastic endorsement of our commitment to building homes and changing lives."