Making a complaint
Complaints are a positive and valuable way to help us identify where we can make improvements to our services.
Sometimes things might go wrong. And when they do, we want to know. Please do not be afraid to express your concerns – this gives us the chance to review what has happened and where appropriate put things right and try to make sure they don't happen again.
The Housing Ombudsman is a government service which looks at complaints against registered social housing providers. They have a Complaints Handling Code, which we follow.
Our approach is to put our customers first and we want you to feel that we listen and act on your concerns. We strive to investigate and resolve complaints swiftly and make positive changes for you, meaning we may need to review our policies and procedures and provide more training for our staff to improve things.
How to tell us what went wrong
You can tell us about your concerns by filling in this online form or contacting us in the usual way.
How we will deal with your complaint
We want to make sure that your complaint is resolved as quickly as possible. Our Complaints policy sets out in detail how we will deal with your complaint.
Get on track
For issues that do not necessarily need a formal investigation to resolve, the 'get on track' stage aims to resolve the failure in service and get it back on track within five working days. A 'get on track' complaint is dealt with much quicker than a formal complaint as we will not normally carry out an investigation or send formal letters.
You will receive an agreed plan of actions and timescales to deal with your complaint.
'Get on track' can be bypassed if you wish to raise a formal complaint immediately, however we would discuss this with you.
Formal complaint
If you are unhappy with a service we have provided or we have been unable to resolve and issue to your satisfaction under our 'get on track' process, then you can raise a formal complaint. Formal complaints will be investigated and a written response provided. This stage is normally where a number of issues have occurred and a more in-depth review of the issues is required.
A formal complaint should normally be raised within 6 months of the incident which led to the complaint being made.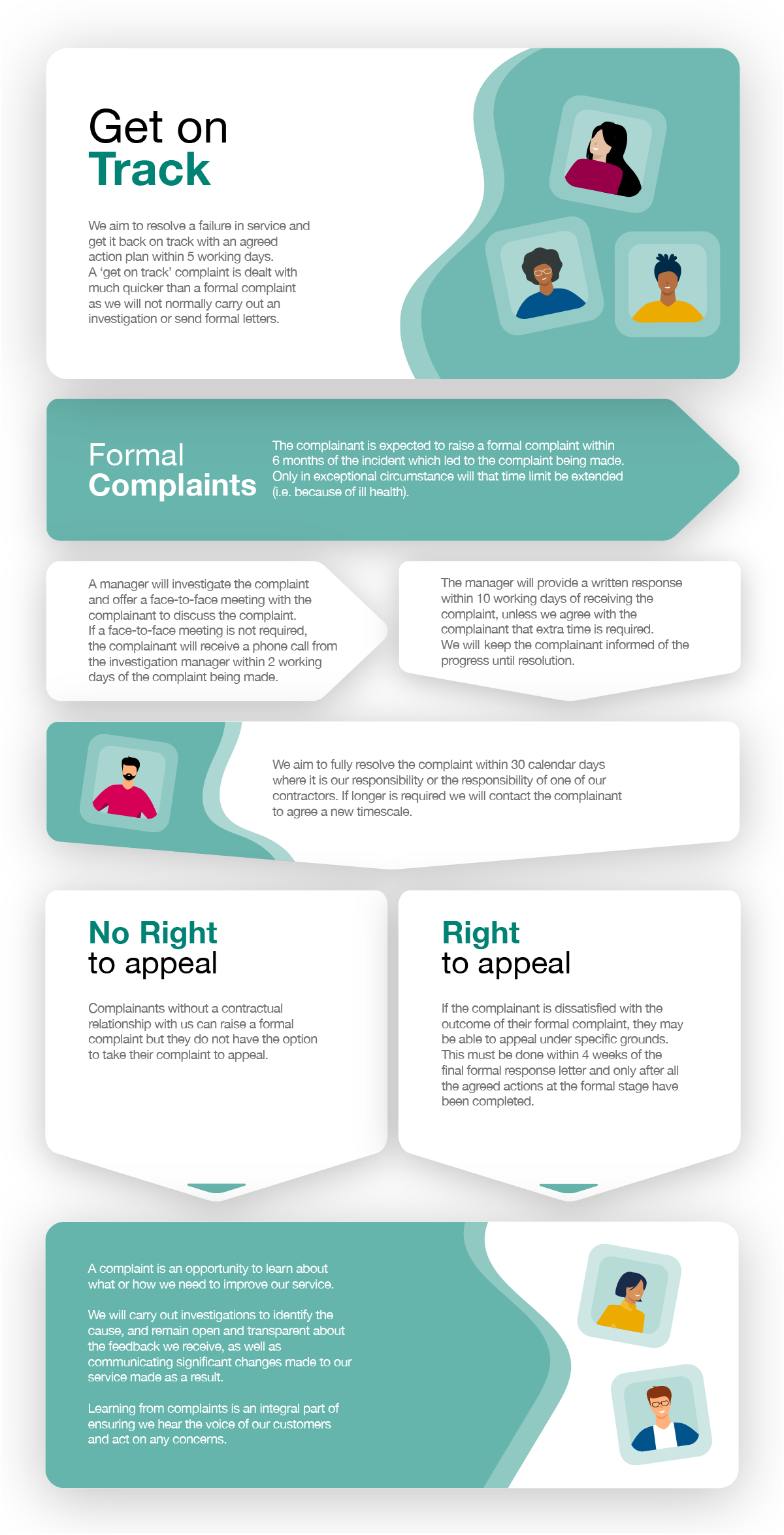 Contacting the Housing Ombudsman
You can also contact the Housing Ombudsman directly but they will not be able to investigate your complaint until eight weeks from the date it is acknowledged by us. However, you can contact them for at any time while a complaint is going through the process for advice and to help find a resolution.
Contact details for the Housing Ombudsman Service are:
Postal address: Housing Ombudsman Service, PO Box 152, Liverpool L33 7WQ
More information on the Housing Ombudsman's complaints handling can be found below