Trades team mobilised to make essential deliveries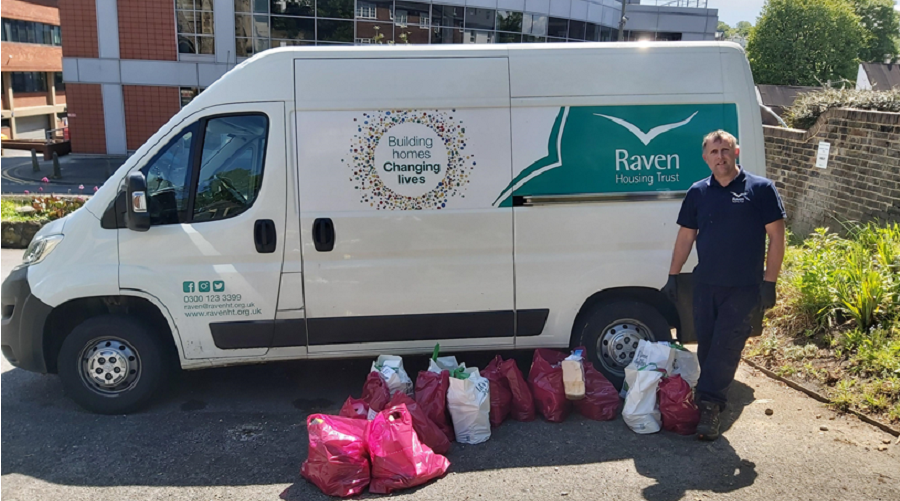 Here at Raven, we've transformed the support we provide our customers and other members of the local community to help those most in need during the coronavirus outbreak.
In order to adhere to current government guidelines on social distancing, some of our trades team that are usually out and about in our customers' homes undertaking routine repairs, found themselves unable to do their normal jobs. Since mid-April we've had a dedicated team, not only co-ordinating collecting donations from our colleagues for Reigate and Banstead Borough Council's community support centre, but they've also been supporting local foodbanks to deliver food parcels to customers.
Angela Ellis, our head of community investment, said: "Since the very start of the coronavirus pandemic it has been widely reported that more and more families are turning to them for support. Locally, it also became clear that in order to reach those most in need a delivery service would be needed. This is where members of Raven's trade team were able to step in. Four days per week the team from Raven support either the Loveworks or St Mathew's foodbanks delivering up to 12 parcels per session, 12 times a week."

"We are all facing challenges as we come to terms with the impact of Coronavirus both at home and at work, but we recognised for those of us less fortunate than others, we needed to provide additional support."

"It is always important for us to be at the very heart of the community we serve and having the opportunity to support our local foodbanks is one way we can safely support those who are either self-isolating and can't get to the shops or simply can't afford to feed their families right now. The team have been fantastic, and I know it means as much to them to be out there helping others in such unprecedented times as it does to those we are supporting."
So a big thanks to Andy Chalder, Iain Austin ,Gary Edwards, Aaron Norton, Ashley Elms, Ben Harding, James Coleman, John Fergus, Mark Miles & Nathan Tennuchi for going the extra mile to support our communities during this pandemic.