How we're supporting your neighbourhood Jubilee celebrations
Update 12 May 2022: all celebration packs have now been allocated, but if you're celebrating the Queen's Jubilee you can still enter our photo competition (details below)…
The Queen's Jubilee always brings neighbourhoods together and we think that's a great reason to celebrate! There's never been a better time to get to know your neighbours. We'd love to see your community coming together to share friendship, food and fun for this year's Platinum celebration – and everyone's invited to take part!
Would you like to organise a party in your street where everyone brings a dish? Are you part of a Residents' Association that would like to use your communal space to celebrate? Or perhaps you fancy an afternoon tea with neighbours?
Whether it's over the Jubilee bank holiday weekend of 2-5 June 2022, or throughout the month of June, we'd like to help you get your party started…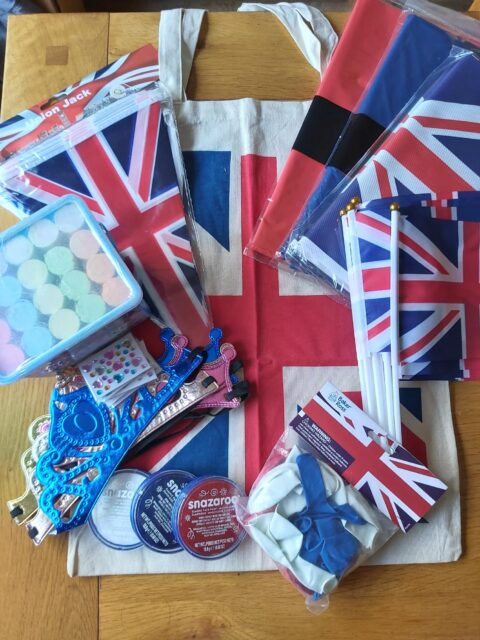 We've put together some celebration packs which each contain:
Handheld flags – Union Jack
Bunting – Union Jack 20m
Tablecloths – Union Jack, red & blue
30 balloons – mixture of red, white & blue
Face paint – red, white & blue (used at your own discretion)
Street chalk
Cocktail sticks – Union Jack
Crown – decorate your own
Baking and games ideas
All bundled in a Union Jack tote bag
All you have to do is complete the online application form below and we'll be in touch. But be quick, packs are limited and will be given on a first come first served basis. If you have any questions, please get in touch with shuna.china@ravenht.org.uk.
The deadline for applying is 13 May 2022. In exchange for a party pack, all we ask is that you enter our Jubilee photo competition below.
Jubilee party pack application form
Please note, applications are strictly for community parties and not individual household gatherings
If you are organising a community party, you'll find some useful guidance on the government website.
---
Jubilee photo competition
Capture the magic of your celebrations and enter our photo competition.
This could be of anything from a photo of a big group of people celebrating the Jubilee, to the best celebration cake or children's Jubilee artwork. As well as a £20 shopping voucher for you, we'll work with the winner and their community to spend £250 on improving your community, neighbourhood or local facilities. This could be something like a garden bench, planting a tree, or donating play equipment to a school or nursery. Winning will be the gift that keeps on giving for everyone!. We're encouraging everyone to take part, even if you didn't apply for or receive a party pack.
Photo competition terms and conditions
You must be a Raven customer and over 18 years of age to enter.
The photo must be of your community Jubilee celebrations.
There's no limit to the number of photos submitted per person or community.
By entering you, and anyone in the photo, are giving consent to use the photo for marketing purposes.
All photos must be submitted by midnight on Friday 1 July 2022.